Let's be real, a big reason why your guests want to come to your wedding is to indulge in the delicious free food. It's a big incentive! So you're probably wanting to compare catering options to assure yourself that you'll be providing the most scrumptious wedding day meal. But how do you guarantee that the food will be amazing (and plentiful) while also avoiding being driven crazy over the costs and logistics of using an outside caterer?
There are a number of factors that come into play with catering services depending on where the food is prepared, who's running the service, what you're willing to spend, and how all of that that will tie in with the flow of your wedding.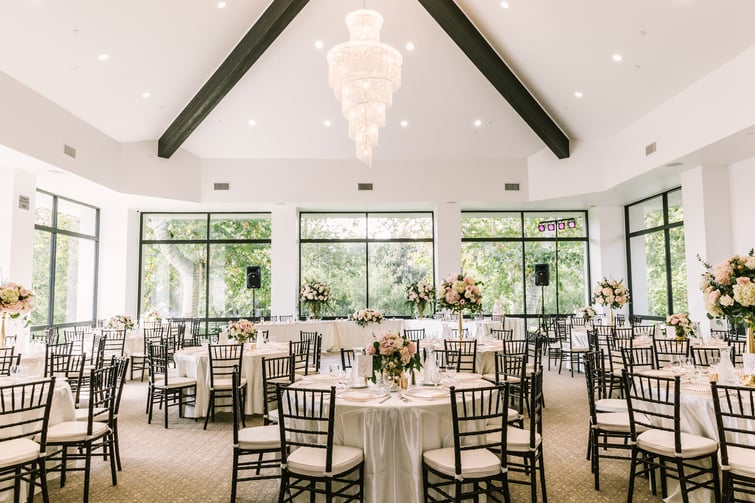 Consider these six points about using an outside caterer:
"I have this thing called the 'Olive Garden Rule'. Most people don't think of the Olive Garden as wedding-caliber food, but consider that there, an appetizer, a salad, and a few glasses of wine will cost about $50 per person. Transition that to a hundred guests, and it would cost $5,000 to serve Olive Garden at your wedding. Having a wedding at any budget is possible, but compare things to real life, and think about how money spends"

– Liz Coopersmith of Silver Charm Events
More fees
Most catering companies will tag on a transport/delivery fee if they cook the food off-site from the wedding venue. A delivery fee can easily cost a couple hundred dollars and they can charge you MORE if your venue is outside a 20-mile radius of their kitchen, for example. If you get charged for delivery on a pizza, you better believe a formal catering company will charge you for it too.
And more fees…
A lot of catering companies will also charge silly fees such as a cake-cutting fee (which can be $2-$14 per slice) or they will charge extra for china and glassware. Considering you'll obviously need plates for the food to go on and forks for your guests to feed themselves with, you'll be forced to pay those extra charges… At Wedgewood Weddings, we do not charge extra for obvious needs such as cake-cutting or china and glassware.
"Most catering companies like to sell other items to increase your bill. Food itself isn't a great money maker - it costs a lot to purchase the man power to cook food, so the end product has small margins unless you overprice the meal."
– Roman Cota, Wedgewood Weddings, Executive Chef


Restaurant catering is a cheaper option, but it could be a stretch
Speaking of Olive Garden, you might think that's a great idea to cut costs down, as opposed to using a full-service caterer. But remember, your favorite restaurant is used to packaging food to-go in foil pans, plastic bowls and paper boxes. Asking them to step out of their norm to provide catering for your wedding may be a stretch. They're used to dropping off the food in plastic bags or leaving it at the restaurant with the customer. That means it's up to YOU to figure out how to set it up, serve it, and keep its temperature.


It could get messy – literally
Transporting food from an off-site kitchen means running the risk that the food will not transport successfully…foods may spill, topple over, or get mushed. It's also possible that certain foods could be overcooked in effort to keep them warm through transportation. Or, they aren't kept warm enough, and they get cold by the time they're being served to your guests. Either way, ew.
"Back when off-site catering was my bread and butter, it didn't matter how organized we were, something is always forgotten on a catering drive - a salad dressing, side sauce, or garnishes if we're lucky, the signature entree if thing go really wrong! When time permits, a mad rush is made back to the kitchen/restaurant to grab the missing item or they simply go without and hope the client doesn't notice."

– Roman Cota, Wedgewood Weddings, Executive Chef
An on-site kitchen sounds nice, but…
Sometimes, an outside catering company will actually be able to use an on-site kitchen at the wedding venue. This prevents the delivery fee or transporting issues mentioned earlier - but have you ever tried cooking a full meal in someone else's kitchen? The lack of familiarity can be challenging… and that could get tricky with the catering staff trying to prep all of your wedding food in a kitchen that is not their own. We're talking room for more mistakes or things not running so smoothly. Or what if the venue's kitchen doesn't meet all of the caterer's needs?


A final walk-through is a MUST
A full-service caterer is more than just the food… there's also a whole team of servers who may not fully understand the functionality of the event. If you don't have a final walk-through at the venue with the caterer a few days before the wedding, it could be very complicated trying to communicate timelines, seating layouts, and other details – especially if you're serving a plated meal with assigned entrée selections.
With Wedgewood Weddings, we have our own kitchen on site along with our own kitchen staff and event staff at each of our venues to ensure that the food is served smoothly, on time, and the food is at the right temperature. Our event team will confirm your final guest count with you 10 days before your wedding date so that we can prepare enough food for your accurate number of guests! Just one (or six) more ways that Wedgewood Weddings makes your wedding planning stress-free!
Here's what our couples have to say about the cuisine at a Wedgewood Weddings venue:
"The location is beautiful and the food is so good your guests will continue to talk about it for months! (Mine still are lol)"

Lindsey T., The Knot

***


"The food was phenomenal! We chose the buffet. It came with a lot more options for salads - 8 different salads! We had gone to a bridal fair that Wedgewood Weddings held a few months before our wedding and we were able to taste some of the food. We went for the mahi-mahi instead of the salmon, and the prime rib was sooo delicious! The buffet also allowed guests to go back for seconds."

Jamie P., Yelp

***

"The Wedgewood Weddings caterers exceeded our expectations. Thank you!"

Brenda B., Yelp