We love that, in recent years, weddings have become a production. Thanks to Pinterest and other social media, everyone's going all-out on a gorgeous wedding, and we love seeing all the latest trends come through our venues. Refer to our 2021 wedding trend guide to stay ahead of the curve and incorporate all the most gorgeous trends into your special day! There's so much variety and options for personalizing your wedding day, we're sure you'll love some of our top favs.
Hanging Florals
Florists have gotten very clever in how your guests are presented to your reception. Hanging floral garlands or lush greenery from above, draping down over your guests is such a hot trend that imagine will be around for a long time. Eucalyptus garlands, voluptuous orchid, and salal greenery - it's all stunning! This is a relatively low-cost way to decorate the space with extreme results - this really enhances the look of the space.
Relaxed Vibes
For decades, weddings have always been an elegant affair. And while they're still a refined experience, we're seeing more and more couples choose to host a more laidback event for their big day. Along with this, we see couples choosing to have a smaller guest count for a more intimate celebration, leaving more room in the budget to go big with lavish decor, decadent food, or amazing photography.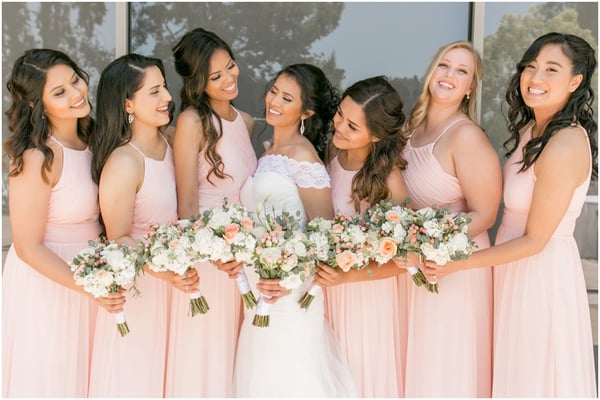 Bohemian Babe
Mismatching dinnerware, chill vibes, and a neutral color palette are still all the rage right now and we so happy about it! Why not show of your personality and have fun with the Bohemian lifestyle and integrate it into your perfect day! Dusty hues, lush greens, golden yellows, marble accents, and modern calligraphy are so Pinterest-worthy!
Going "All Out"
As we mentioned, over-the-top weddings are all over Pinterest. So, it's no surprise that one of the biggest trends is to make a big statement with lavish decor and dramatic accents. We've seen couples incorporate over-sized balloons, smoke bombs, photo op boards, and much more. Have fun and get creative with it!
Second Groom's Suit
You've heard of a bride having a second dress for the reception. Well now, it's not just limited to the ladies anymore, guys are getting a second change as well! This second change is usually a little more casual, maybe without a jacket, a different color tie, and a change of shoes and belt. We love that the gents are getting their moment too!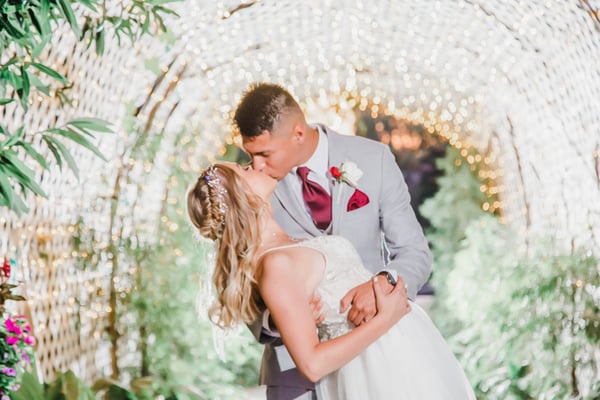 Colored Suit
Say goodbye to the classic black, gray, or navy suits. We see more and more couples choosing eccentric colors for the groom's suite, such as maroon or olive green.
Overhead Lighting
Great lighting is an incredible (and functional) way to decorate your reception space. Set the mood with overhead lights - guaranteed to add a magical, mystical feel to your reception. Not to mention, it'll look fantastic in reception photos!
Tropical Vibes
Grab your pina colada and let's talk tropical! What a vibrant trend we're seeing unfold. Beach ceremonies, balmy outdoor receptions, and accents of pineapple and palm leaves are sure to give your wedding style. Did you know you can get married on the beach at our Carmel and Pacific View Tower Club venues?
Videography
Highly recommend. Wedding photography has always been such an important factor of your wedding because it's the one thing you have to look back on your day. And what's better? A beautifully composed video. Wedding videography allows you to re-live your day as you watch it back. You can even make a tradition of it and watch your wedding video together as a couple on your anniversary each year!
Grazing Tables
Everyone loves a charcuterie board. Why not oversize it? A grazing table is just that - a large table with beautifully displayed meats, cheeses, nuts, jams, crackers, etc. for your guests to 'graze' during cocktail hour. We're even seeing couples start to replace the wedding cake with a tiered cheese tower instead!
***
It's easy to get caught-up in the current trends of the industry as you plan your big day. But what's most important is to stay true to what you and your fiance envision and want for your wedding. Do things your way and make it your own. We're excited to see it!