For many years, our chef team at Wedgewood Weddings have been Culinary Clash winners while supporting ProStart, a national education program to help high school students find their passion for culinary arts and hospitality.
"Typically, this fiery competition between restaurant brands is an in-person event with trophies, cheering sections, and live cooking and bartending. However, this is not a typical year (to say the least!). Instead, The Culinary + Cocktail Clash has become a virtual contest! Restaurant teams created videos and recipes – all to support high school culinary programs."
-- Clash Organizers, 2020
The California Restaurant Association Foundation supports 140+ public high schools and 13,500 teens each and every year. Funds raised from The Culinary + Cocktail Clash power essentials like job-training, mentorship programs, scholarships and more!
wHY WE SUPPORT CULINARY CLASH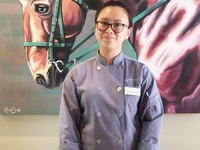 Our Wedgewood Weddings team work with the ProStart culinary education program for high school students. Attracting new and young talent is critical for the entire industry. In previous years, we've loved working alongside top high school talent during this fun and vital event. Chef Grace from Galway Downs entered this year with her tasty Japanese Stuffed Eggplant recipe as part of the virtual competition.
"Grace is a kitchen virtuoso and it's a delight to see her at work in any of our kitchens. Together with our culinary leader, Roman Cota, and our entire kitchen and chef team, we're proud to be winners! It's tremendous to know our culinary offering and execution aligns with the rest of our best-in-class services."

-- Bill Zaruka, CEO


Our delicious 2020 Entry from Chef Grace
JAPANESE STUFFED EGGPLANT RECIPE
1/4 lb Smithfield double smoked bacon
1/4 lb Smithfield shredded chicken
1/4 tsp salt
2 tsp sugar
1/8 tsp white pepper
1 tsp oyster sauce
1 tsp sesame oil
1 tsp Shaoxing rice wine
1 egg white, lightly beaten
2 Tbsp green onion, finely chopped
2 Japanese eggplants
FOR STEAMING
1/4 cup water and Coca-Cola


SAUCE
2 Tbsp oyster sauce
1/8 cup of Coca-Cola
1/2 tsp cornstarch
1 clove of garlic, minced
1 green onion, chopped
JAPANESE STUFFED EGGPLANT INSTRUCTIONS
Finely chop the bacon and chicken, then put in a bowl. Add salt, white pepper, Coke, oyster sauce, sesame oil, rice wine, egg white. Stir in green onions and vegetable oil. Set aside for 15-30 minutes.
Slice eggplant on the diagonal about 1 1/2 inch thick then slice through the middle, but not all the way to create a pocket for the bacon and chicken mixture.
Fill each eggplant slice to the top with about a Tbsp of the bacon and chicken mixture. Repeat until all the eggplant slices are filled.
Heat a pan over medium heat with 1/4 inch vegetable oil. Work in batches. Fry the eggplant slices for 2 minutes each side until browned and then move the slices to a paper towel lined plate.
Return all the eggplant slices to the pan, add 1/4 cup of water and 1/4 cup of Coke and cover. Steam for 8-10 minutes, until eggplant is soft and easily pierced with a knife.
In a blender, combine oyster sauce, sugar, and cornstarch diluted in water. Then add to the pan with eggplant and stir. Cook for 2 minutes until it thickens.
Move eggplant to a plate. Add garlic and scallions to the sauce and cook for another minute to reduce.
Arrange the eggplant, drizzle the sauce on top and then serve hot.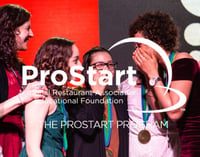 ProStart® is a nationwide, two-year high school program that reaches nearly 150,000 students in more than 1,900 high schools across 50 states, Guam and the Department of Defense Education Activity schools in Europe and the Pacific.

From culinary techniques to management skills, ProStart's industry-driven curriculum provides real-life experience opportunities and builds practical skills and a foundation that will last a lifetime.
Students who have completed the requirements of the Prostart program are awarded an industry-recognized certificate - the Prostart National Certificate of Achievement. Students who receive the certificate are eligible for NRAEF scholarship opportunities and course credits at some of the country's leading hospitality and culinary arts colleges and universities.
The Culinary Clash, presented by Coca-Cola, puts top restaurants head-to-head. In normal years, restaurant execs are paired with high school sous chefs to compete in this battle royale. Culinary teams have just 30 minutes to create an entrée and appetizer using select ingredients.