After a long and eventful year, this close crew deserved nothing more than to celebrate their hard work in style. With Jefferson Street Mansion selected as the backdrop for the event, they decided the 1861 mansion was perfectly suited for a fun Bridgerton-themed party. If you're a Bridgerton fan, you're going to love this fun-filled celebration!
***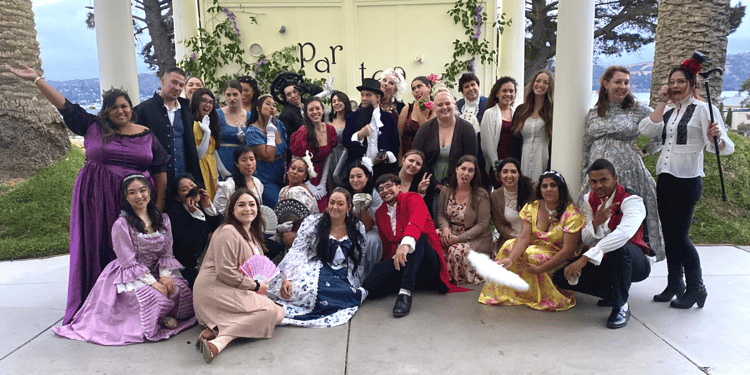 what's a Bridgerton party without epic costumes?
The natural-era decor of the mansion was already a perfect match to this party theme, so bringing it to life was really in the details. From the gorgeous drinks and incredible charcuterie board to the thrifty decor, these creative elements added decadent spice to the tea party.


"We know everyone would drool of The Duke so a life size cut out of him was a MUST. And where you find The Duke, Dapne isn't too far! We created a signature drink of Empress Gin, Rose Lemonade, & dried flower garnish, so dainty and pretty! Melissa with her creative genius incorporated Lady Whistledowns Article to reflect the day. And we made a backdrop with some fishing wire and thrift store teacups!"


In order to encourage costume participation, the leadership team arranged a costume competition featuring a grand prize of afternoon tea in San Francisco for two. The team was completely on board with the trendy theme and had a delightful time putting together elaborate costumes.
We wanted to make the most of the mansion for the event - so every space had a specific purpose. Rather than following a typical wedding event layout, we set up a long table on the lawn for dining, overlooking the river. This really encouraged conversation amongst the team. Last but not least, the stunning tented reception area was brilliantly transformed into an archery space.


"The veranda and indoor bar held the grazing table, spcialty drinks and tea sandwiches. Then, we set up the parlor rooms with fun activities! One room featurued a photobooth, another had a balloon artist and the last had a caricature artist! And we cannot forget about the horse drawn carriage ride in front of the mansion itself!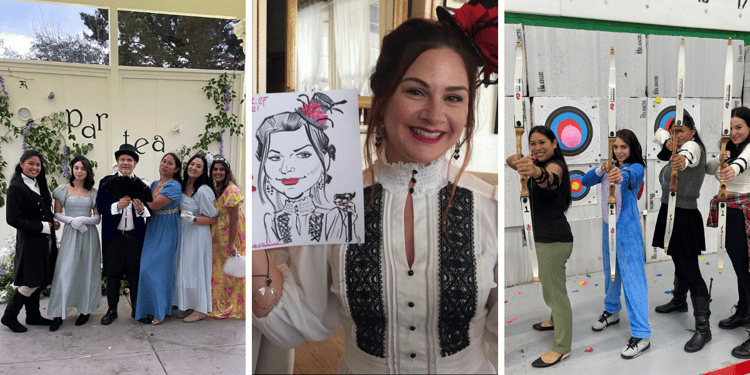 ***
We're so delighted to have the honor to host this incredible event! While weddings are definitely our bread and butter, fun-filled parties are definitely our tea and biscuits. Enjoy!