Let's break down wedding date options in 2022
"The most important advice: there are 'only good days!"
Considering wedding dates is exciting. If you're thinking about a good time to say 'I do' in 2022, we're here to help! We've considered each and every date, and have strong recommendations, plus ideas to make every month the perfect time to marry in 2022.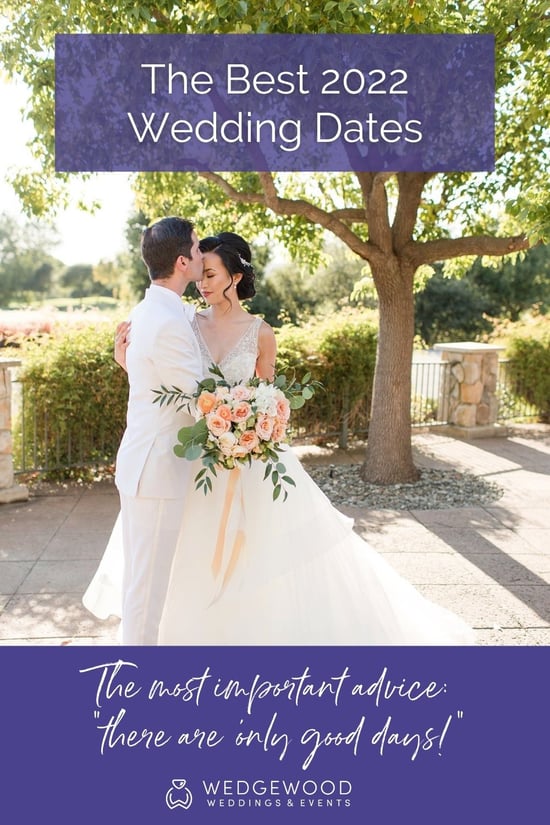 ***
Before selecting a favorite date, you'll need to find your venue and be ready to lock in your special day as event locations book on a first-come, first-served basis.
When friends get engaged, we're all ready to shout congratulations and immediately ask: "what's the date?" because it's the most important aspect for guests. Instead, remember the critical decision for the wedding arranger – you – is the location. All other wedding options like guest count, vendors, accommodation, and more, stem from your venue choice.
ADVICE: HOW TO CHOOSE A WEDDING DATE





Any wedding date you choose will give you plenty of reasons to smile
Choose The Right Wedding Date
Let's dig into the reasons why couples pick certain months for their celebrations, so you can find the season that works best for your needs. Let's go through some of the best wedding dates of 2022 based on holidays, numerology, astrology, lucky dates, and more.

***
JANUARY 2022
January represents a new beginning. January 1st, New Year's Day, is a feast day in many cultures. Want to try something more unique? A super cute date is National Cuddle Up Day on January 6, 2022, when you're encouraged to snuggle up with your sweetie. Another idea . . . Spouse's Day on January 26 is exceedingly appropriate for your wedding day. For those interested in major holidays, Martin Luther King, Jr. Day falls on January 17.
In January 2022, days are around 9.5 to 10 hours long and sunset is between 4:45 pm and 5:20 pm. With January weather typically crisp and changeable, spectacular sunsets are extremely likely.
Lucky Dates:

Friday, January 7; Tuesday, January 11; Sunday, January 23

Cute Dates

: Saturday, January 1 (1/1/22); Sunday, January 2 (1/2/22); Saturday, January 22 (1/22/22)

Full Moon:

Monday, January 17


FEBRUARY 2022
While February is famously our shortest month, it's full of wedding opportunities. Valentine's day falls on a Monday in 2022, as does President's day – which is perfect for anyone who wants to make their wedding celebrations part of a long weekend.
Guaranteed popular dates have repetitive numbers. In 2022, that means one of the most desirable dates will be 2.2.22, and it's extra easy to remember.
In February 2022, days span 10-11 hours, with sunset between 5 pm and 6 pm. Couples generally choose brunch and early afternoon ceremonies in February to make the most out of the natural light. Alternatively, an after-dark evening event is full of romance and character.
Lucky Dates:

Friday, February 4; Saturday, February 5; Tuesday, February 22

Cute Dates

: Wednesday, February 2 (2/2/22); Tuesday, February 22 (2/22/22)

Full Moon:

Wednesday, February 16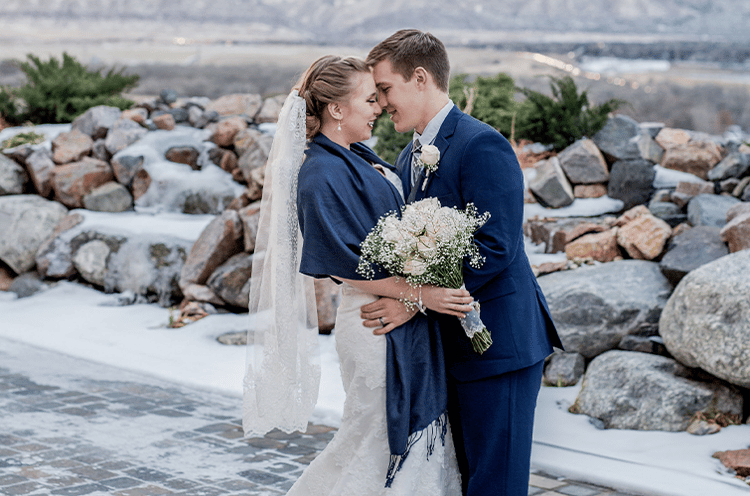 Dress for the season and make it part of your wedding theme
MARCH 2022
March is a popular month for weddings because it's when some of the warmer states start to see the first new leaves appear and beautiful bouquet options like hyacinths, daffodils, anemones, and viburnum burst into flower. In cooler states, winter is beginning to warm up but still sports beautiful snowy accents.
Daylight saving time kicks in for many states on Sunday, March 13, and the Spring (aka Vernal) Equinox in on March 20. This is one of two days each year when the day is equal to the night. If you're looking for even more meaning: The International Day of Happiness is also on March 20.
Lucky Dates:

Thursday, March 3; Monday, March 14; Sunday, March 20

Cute Dates

: Thursday, March 3 (3/3/22); Tuesday, March 22 (3/22/22)

Full Moon:

Friday, March 18


APRIL 2022
With April, we begin to really see the buds of spring! This month is traditionally a special time for new brides as it vied as the season of birth and life in olden times. In 2022, there are lots of religious observances throughout April. Swinging the other way, Tax Day is Monday, April 18, and International Dance Day is on Friday, April 29, 2022
Sunset is around 7:30 pm in April 2022 and the days start to get longer with 13 hours of daylight.
Lucky Dates:

Friday, April 1; Monday, April 11; Wednesday, April 20

Cute Dates:

Monday, April 4 (4/4/22); Friday, April 22 (4/22/22)

Full Moon:

Saturday, April 16
Mild spring weather is always glorious

MAY 2022
May is a balmy month in almost every state therefore will be easier to source popular wedding flowers such as amaryllis, peonies, iris, pansies, and freesias. It's full of popular holidays such as Mother's Day, Memorial Day, and Star Wars Day (obviously!). Mother's Day falls on Sunday, May 8, 2022, and Memorial Day is on Monday, May 30, 2022. Of course, Star Wars Day is on May the 4th – which is a Wednesday in 2022. Sunset occurs at around 8 pm in May and the moon rises at about midday. Expect around 14 and 15 hours of daylight in May 2022.
Lucky Dates:

Tuesday, May 3; Friday, May 6; Monday, May 23

Cute Dates:

Thursday, May 5 (5/5/22)

Full Moon:

Monday, May 16
JUNE 2022
Traditionally, June has always been popular for weddings (although October is now the most popular month across the US!). Father's Day is on Sunday, June 19, 2022, and the June Solstice is on June 21, making this Tuesday the longest day in 2022. We think National Best Friends Day on Wednesday, June 8 is extremely wedding-appropriate or National Bourbon Day on Tuesday, June 14 could provide plenty of celebratory ideas.
Sunsets in June are at 8:30 pm so there's plenty of daylight for later outdoor ceremonies or even outdoor receptions. Expect 14-15 hours of sunlight each day in June 2022.
Lucky Dates:

Wednesday, June 8; Tuesday, June 14; Friday, June 17

Cute Date:

Monday, June 6 (6/6/22)

Full Moon:

Tuesday, June 14 (this will be a super moon)




JULY 2022
We always think of July as a fun summer month. It kicks off on the 4th of July and the party keeps on going while the sun's out. This is the time of year when we traditionally grill and picnic with family, and it's an awesome idea to make your wedding celebrations part of the alfresco fiesta.
National Kissing Day is Wednesday, July 6, 2022. If comfort food holds a dear place in your heart, you'll be interested to know that International Mac 'n Cheese Day is Thursday, July 14 … we happen to offer an exceptional wedding-appropriate Mac and Cheese option if you want to add it to your celebration.
Expect picture-perfect wedding weather across most of the country in July 2022 with blue skies to make your wedding portraits gorgeous. You'll have 14.5 hours of daylight and sunset is just after 8 pm.
Lucky Dates:

Friday, July 8; Monday, July 11; Thursday, July 21

Cute Dates:

Thursday, July 7 (7/7/22); Friday, July 22 (7/22/22)

Full Moon:

Wednesday, July 13 (this will be a super moon)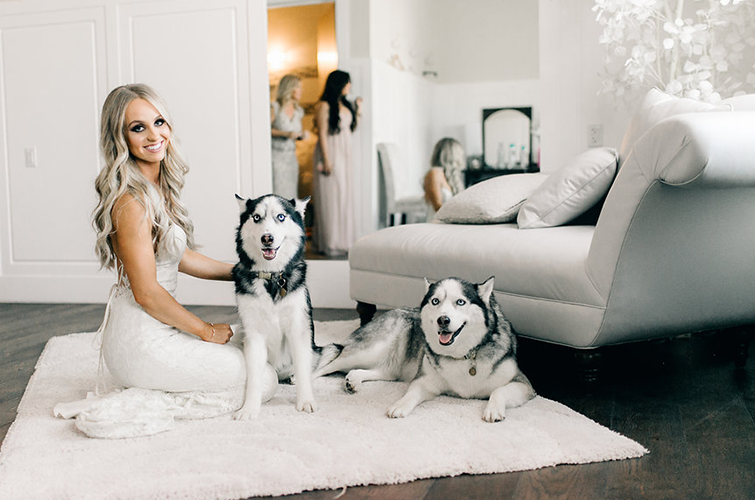 Invite your best friends to join your wedding party
AUGUST 2022
Did you know August 1 is National Girlfriend Day? That makes it fun for all your wedding guests – especially if any of them are planning a secret proposal! Tell A Joke Day is on Tuesday, August 16 if you think that might help with speeches. On Friday, August 26 it's National Dog Day which makes welcoming your pooch to your wedding a perfect idea. We love doggie ring bearers!
Expect 13 to 14 hours of daylight on a typical August day in 2022. Sunset is usually between 7:45 pm and 8:15 pm.
Lucky Dates:

Friday, August 5; Sunday, August 7; Monday, August 8 (double lucky = 8/8/22); Friday, August 19

Cute Date:

Monday, August 8 (8/8/22)

Full Moon:

Friday, August 12
SEPTEMBER 2022
Monday, September 5 is Labor Day which is always a popular choice for couples who love a full weekend of celebrations. If you like beer there are two pertinent days for you this month: National Beer Lovers Day on Wednesday, September 7, and National Drink Beer Day on Wednesday, September 28.
The autumn equinox on Thursday, September 22 is the official start of Fall. Sunset is typically between 6:30 pm and 7:30 pm and you can enjoy 12.5 hours of daylight.
Lucky Dates:

Thursday, September 1; Thursday, September 8; Sunday, September 25

Cute Date:

Friday, September 9 (9/9/22)


Full Moon:

Saturday, September 10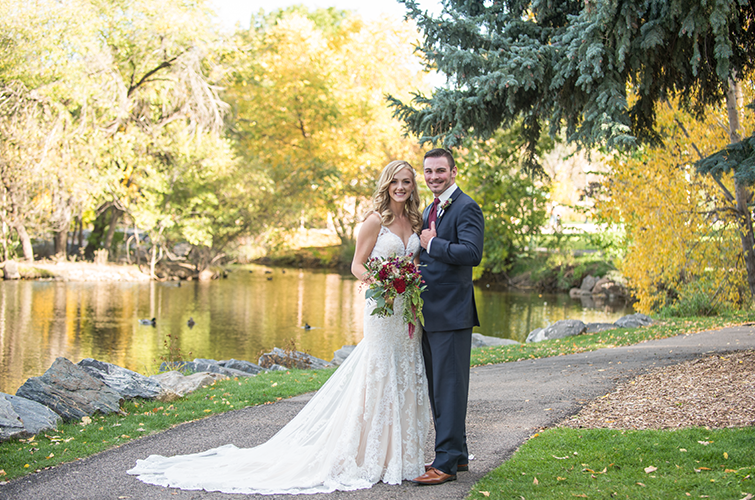 Fall foliage can make a magnificent wedding backdrop
OCTOBER 2022
This month is ideal for all types of weddings. Crisp blue skies with a touch of weather make for glorious sunsets and fantastic sunsets. We've seen plenty of October 31 weddings that choose to play up or play down Halloween. And since all Hallows Eve is on a Monday in 2022 – most will have already celebrated the holiday over the preceding weekend.
The sun will dip at around 6 pm and night falls at 6:45 pm. Daylight lasts for 10.5 to 11.5 hours.
Lucky Dates:

Friday, October 7; Saturday, October 8; Tuesday, October 18

Cute Dates

: Monday, October 10 (10/10/22) and Saturday, October 22 (10/22/22)

Full Moon:

Sunday, October 9
NOVEMBER 2022
A November Wedding is a true winter event – it's time to embrace three-piece suits or faux fur wraps! Even the milder states can drop into the 50s.
Thanksgiving is on Thursday, November 24 in 2022 – and we recommend giving the Holidays serious thought if you're considering a winter wedding. Lots of people have vacation time or work slows down, and a cheerful and cozy wedding is exactly right for shorter days and long evenings. The sun generally sets between 4:30 pm - 6 pm, and clocks fall back on Sunday, November 6. Expect 9.5 to 10.5 hours of daylight with sunrise at around 7 am.
Lucky Dates:

Friday, November 11; Tuesday, November 22; Friday, November 25

Cute Date

: Tuesday, November 22 (11/22/22)

Full Moon:

Tuesday, November 8






stunning snow scenes create a

beautiful

contrast to the happy couple
DECEMBER 2022
A December wedding is ideal if you love snowdrops, primroses, winter jasmine, and holly. Of course, you could buck trends and choose glorious tropical blooms to accent your celebration. This is the season of rich jewel tones and we always admire stunning velvet accented bridesmaid's dresses in deep maroon or navy.
If you choose any outdoor activities, a perfect wedding favor is a monogrammed blanket that your guests can enjoy on the day, and for years after. The sun will set at 4;30 pm and we love pairing long nights with a s'mores bar or hot cocoa.
Across America, we have every choice for a winter wedding - select a cozy fireplace and snow scenes in Colorado or enjoy Arizona where it's relatively warm and dry in December. A destination wedding is a great choice if you need to travel to find your chosen temperatures.
Lucky Dates:

Sunday, December 4

Cute Dates

: Friday, December 2 (12/02/22); Monday, December 12, 2022 (12/12/22) and Thursday, December 22, 2022 (12/22/22).

Full Moon:

Thursday, December 8






Winter Wedding Options can be surprisingly tropical




***
Choosing your wedding date is a rite of passage. Start with your venue, check in with close family and friends, then lock it in and start designing Save the Date cards.
If you're ready to find your 2022 wedding date and venue, contact our team today to get started! Call or text 866.966.3009.