You'll fall in love with New England weddings!
There are so many things to love about a New England Wedding – from breathtaking mountain views and miles of unadulterated forests to the country's freshest seafood. History and natural beauty intertwine in the country's oldest clearly defined region, making it a beautiful backdrop for fairytale nuptials. With snow-covered winters and picture-perfect autumns, New England offers four seasons of splendor for visitors and residents to enjoy. Before you say 'I do!' to a New England wedding, take a peek at our ultimate guide to venues and things to do throughout the region.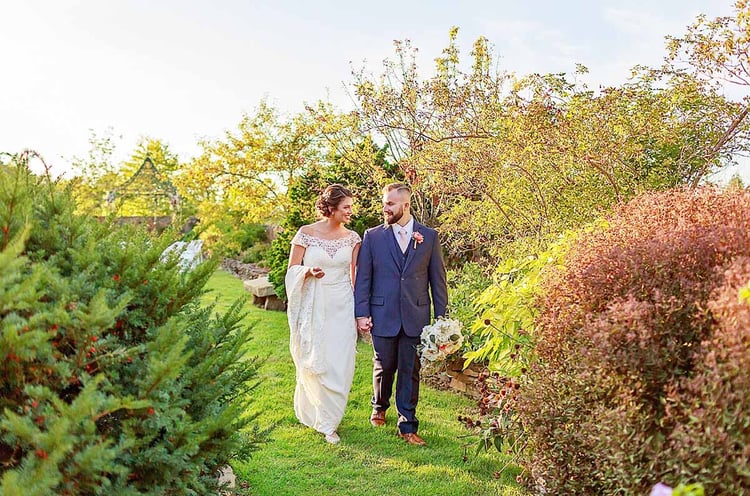 A bride and groom stroll through lush gardens during an Autumn wedding in New England
***
New England is a Northeastern Region of the United States that consist of six states: Maine, Vermont, New Hampshire, Massachusetts, Connecticut, and Rhode Island. Bordered by New York to the West and the Atlantic Ocean to the East, New England is conveniently located among lush mountain ranges and along miles of pristine coastline.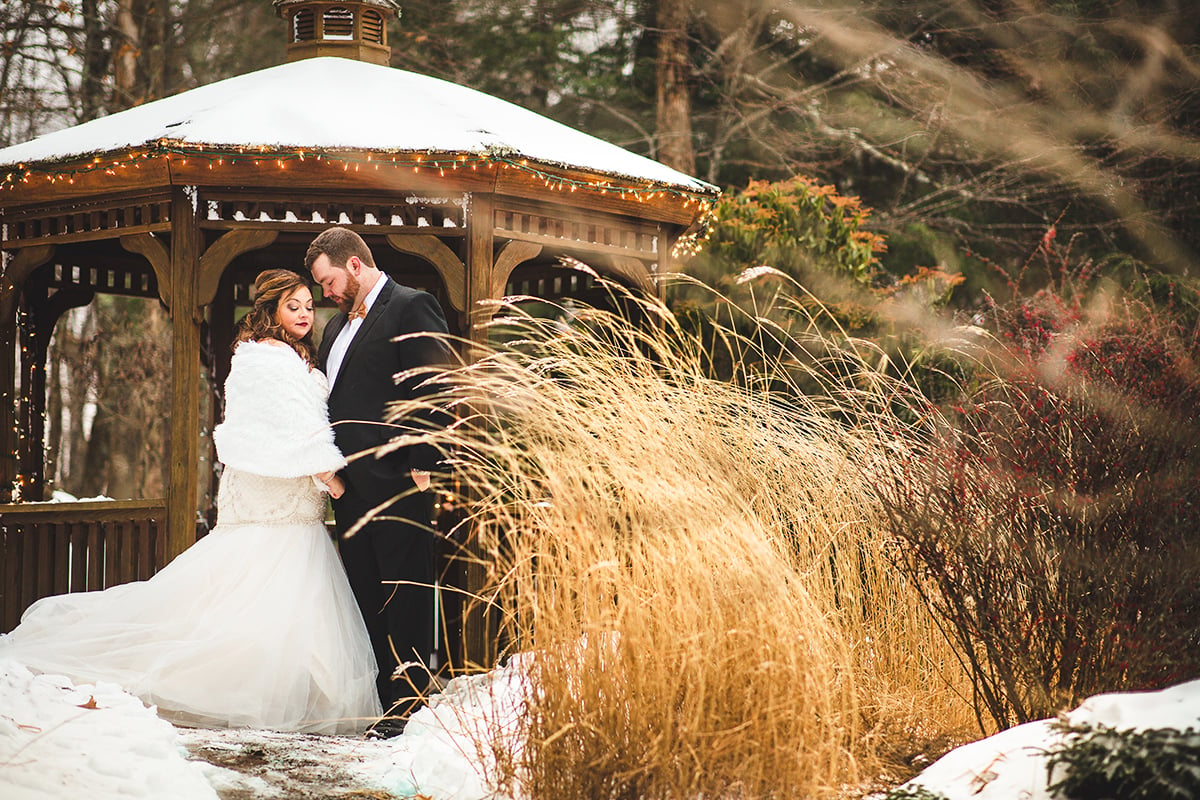 Newlyweds snuggled up under a gazebo during a winter wedding in New England
New England is also home to various culinary staples that set it apart from the rest of the country. While New York is known as a pizza destination, New Haven, CT is infamous for its white clam pizza. Head north to Vermont and you will find the freshest, sweetest maple syrup around – tapped directly from the local maple trees. To the east in Maine is where you will find delicious cold-water lobster, which is a staple ingredient in New England lobster rolls.
When planning a New England wedding, one thing to keep in mind is the seasons. New England welcomes four lovely seasons each year: warm and sunny summers, crisp and colorful autumns, sparkling and snow-filled winters, and lush, blooming springs. No matter what time of year you plan to wed, the backdrop will guarantee to be a spectacular one.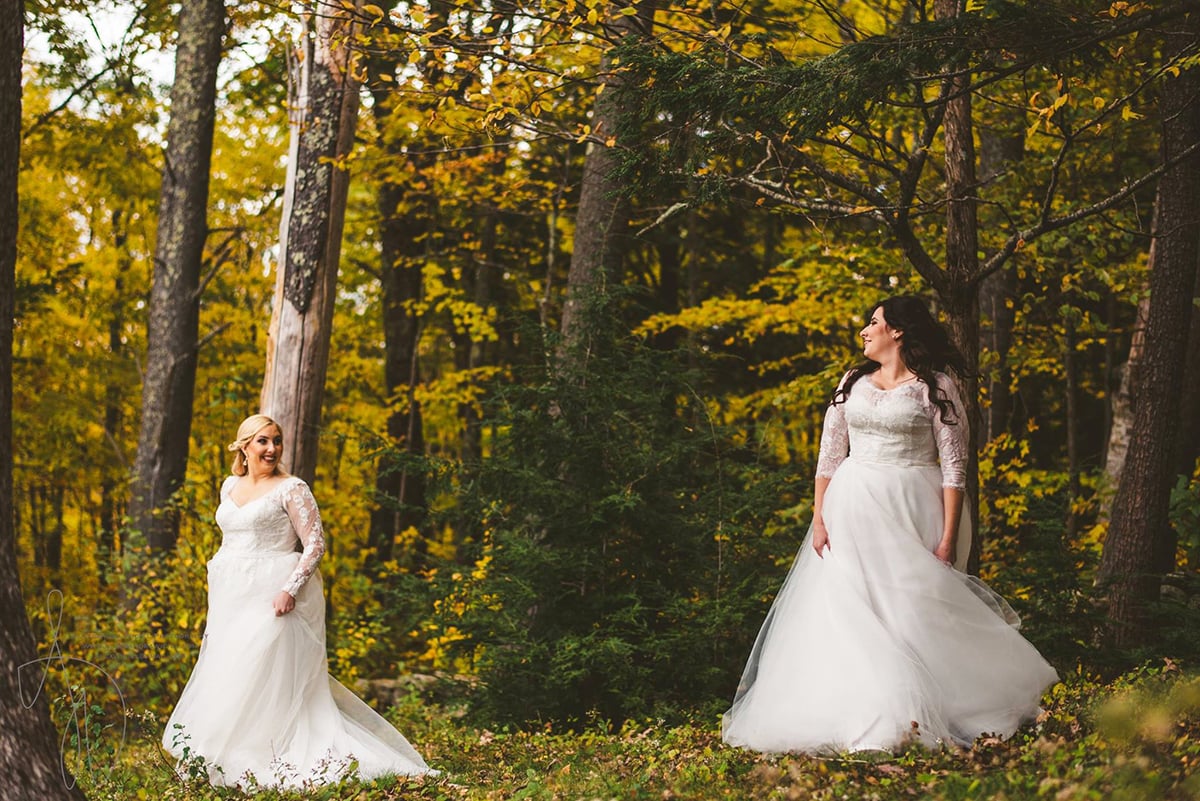 Two brides pose among the changing leaves during autumn nuptials in New England
New England is also an outdoor lover's dream. From hiking through mountainous terrain along to babbling brooks to skiing and snowboarding on fresh white powder, there is no shortage of ways to enjoy the natural backdrop.
Considerations for a New England Wedding
Select a Season: New England is home to four distinct seasons, each with their own unique weather patterns. When choosing the season for your New England wedding, consider what backdrop you would love to have for your photos: blooming flowers, autumn leaves, or glistening snow.
Select a Location: the options are endless when it comes to selecting a location and venue for your New England wedding. From oceanfront nuptials along the Atlantic seaboard to exchanging vows along the cobblestone streets of Boston, there are plenty of backdrops to choose from.
Indoor vs. Outdoor: choosing to have your New England wedding reception or ceremony indoors versus outdoors can vary greatly based on the season. An outdoor ceremony works best in the spring, summer, and early fall if held in an open-air space. If you are opting for a heated outdoor tent for your wedding reception, the ceremony can be held outdoors year-round. Work with your venue or wedding coordinator to decide what will work best for you.
Be Prepared for the Weather: while rain on your wedding may be good luck and snow makes for beautiful pictures, both can have an impact on logistics. Check with your venue to see what contingency plans they have for inclement weather to ensure everything runs smoothly on the day of your wedding.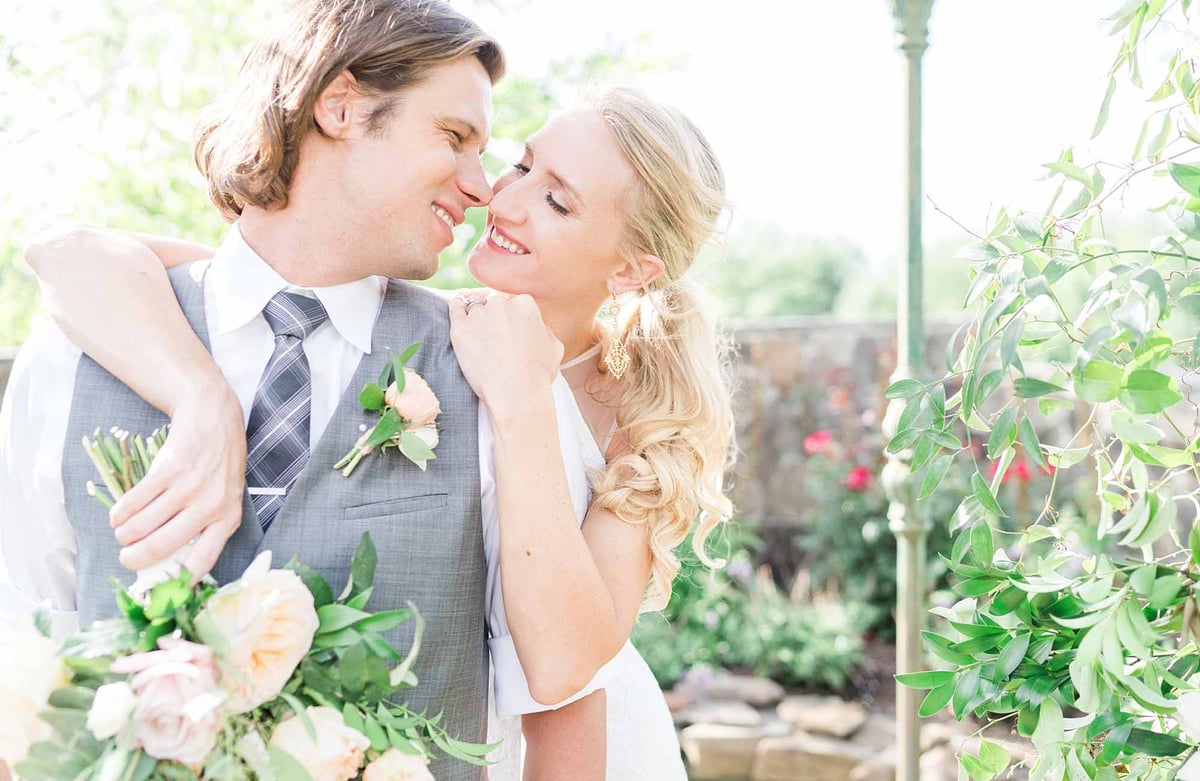 a sweet couple shares an intimate moment in the gardens of Granite Rose
Things to Do in New England
Whether your guests are flying in from across the country or driving in from neighboring states, there is no shortage of ways to stay entertained throughout the New England area.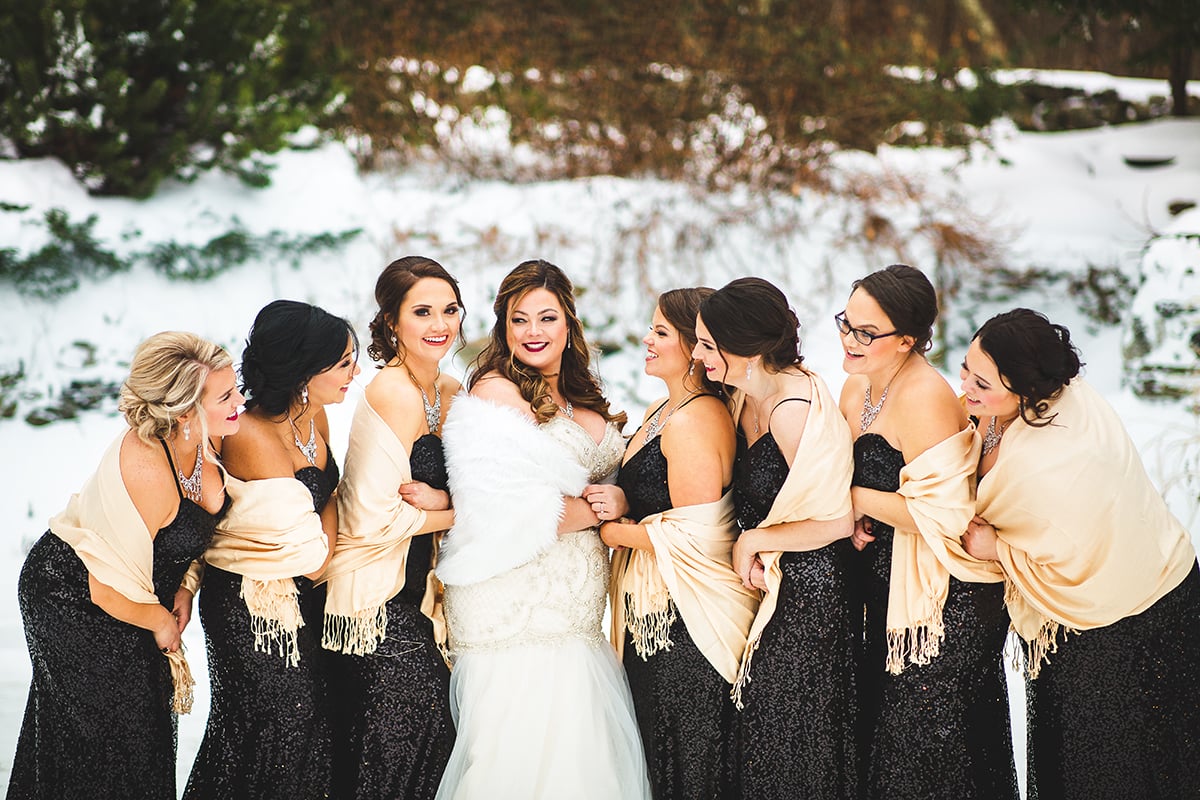 A beautiful bride and her bridal party sparkle in the snow at Granite Rose in Hampstead, NH
Granite Rose in Hampstead, New Hampshire
This quaint New England wedding venue is centrally located in Hampstead, NH – less than an hour outside of Boston. Granite Rose offers the best of everything New England has to offer, including convenient access to the city, beaches, and mountains. This hidden gem in the sprawling New England forests hosts spectacular views of the area's colorful autumn leaves.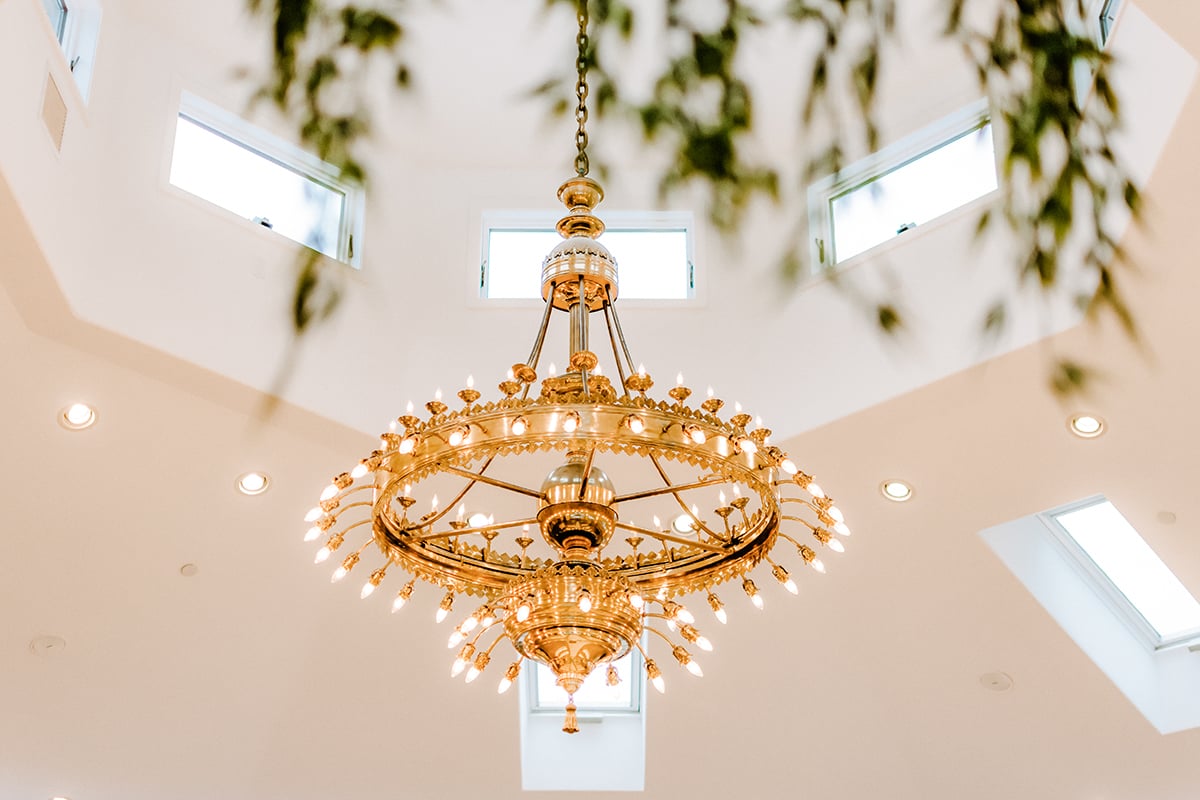 The grand chandelier at Granite Rose, which adorns the ballroom, was originally from the Ritz Carlton Hotel in Paris, France
The grounds at Granite Rose feature lush, secluded gardens, cobblestone walkways, and stone walls that are a staple of historical New England landscaping. Inside the this newly remodeled wedding venue you will find modern décor accented by classic pieces, such as the stunning rand chandelier that is originally from the Ritz Carlton in Paris! Your guests will fall in love with the storybook exterior and regal décor of this New England wedding venue, making it a must-visit as you plan your local wedding.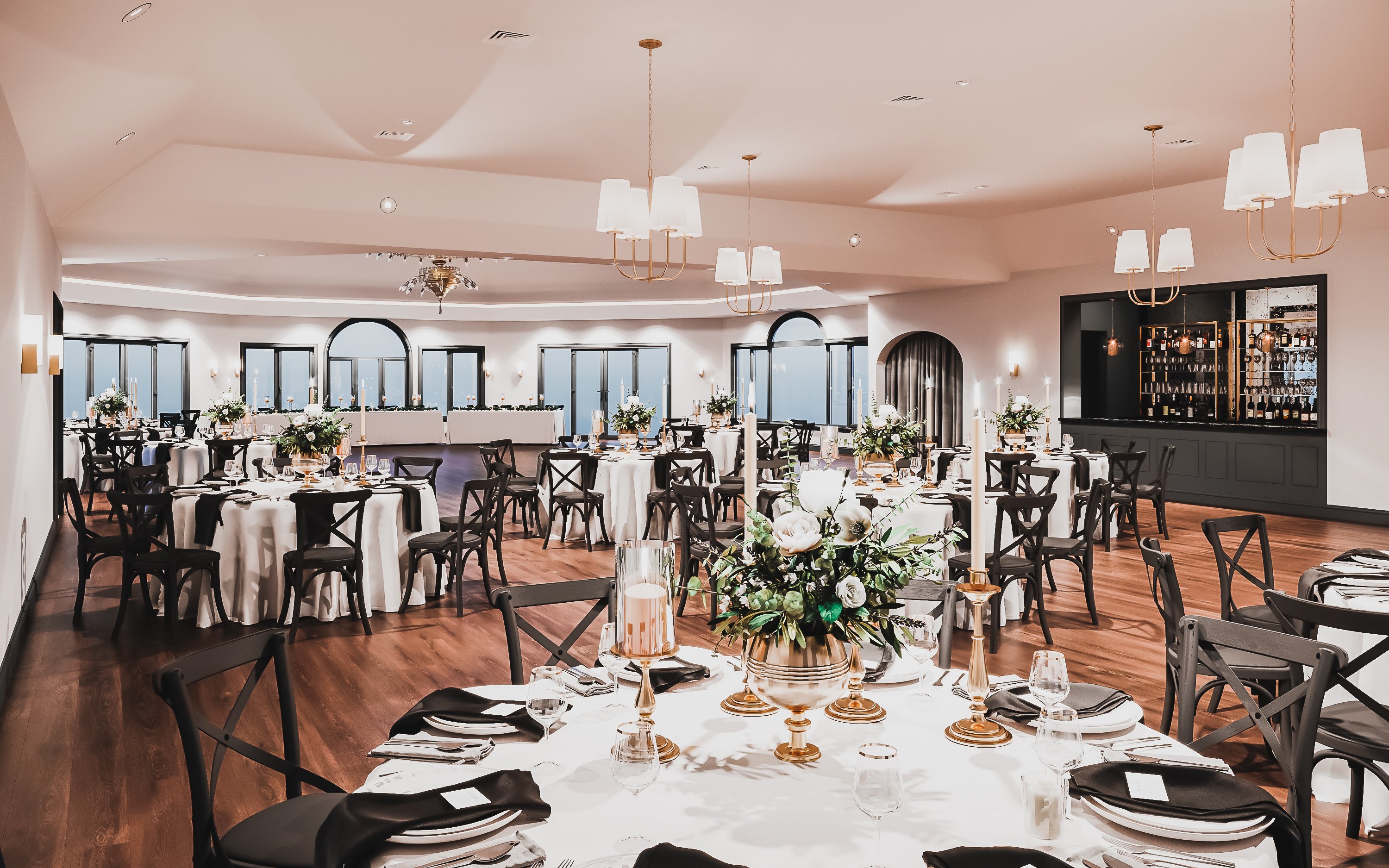 The newly renovated interior at Granite Rose features Mid-Century Modern design accents that are absolutely stunning
Granite Rose is also an all-inclusive wedding venue, offering four fully-customizable pricing packages to fit the unique needs of each couple. These flexible plans allow for the bride and groom to enjoy the fun parts of wedding planning (hello, cake tasting!) without having to stress over the tiny details.
***
New England weddings offer a scenic natural backdrop that is simply unparalleled. As you plan your New England nuptials, you can look forward to breathtaking views that will lend to absolutely stunning newlywed portraits. But most of all, you get to celebrate your future life with your new spouse surrounded by friends and family. Your New England wedding will be nothing short of magical once you make the details uniquely your own!