After the proposal, one of the most important things to consider is when and where the big day will take place. There are many factors to consider when deciding how to choose a wedding venue, including the venue's size, location, parking availability, bathroom options, and so much more!
Rather than get caught up in the details, we say: follow your heart! If you love nature, maybe have a boho vibe, and want to enjoy an outdoor experience, these options could be for you: toes in the sand beach wedding, rooftop views in the city, courtyards with unique landscapes and sculptures, vineyards that make you nature-obsessed, and the fairytale forest wedding. Finding your dream venue can be difficult, so we've gone on the hunt for you and found options from a historic estate to a beautiful garden.
To locate a picturesque setting for your wedding, go through our top 10 recommendations for forest wedding venues in the U.S. Every forest and woodsy wedding venue detailed below is a winner and all have been selected for the following industry awards:
Wedding Wire Couples Choice Award Winner
The Knot 'Best of' Hall of Fame
Here Comes The Guide - Best Woodsy Wedding Venue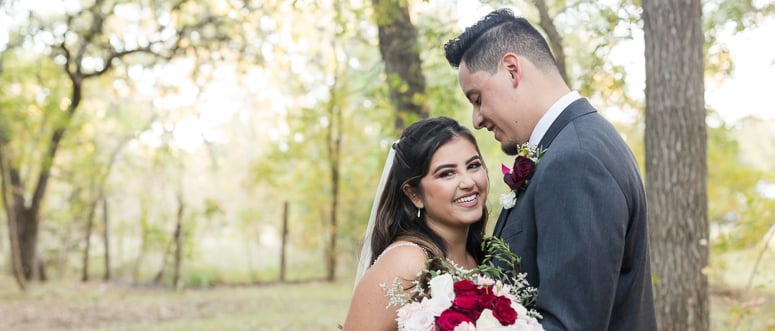 This is the place you want for your wedding for the Old World vibes that meet calm serenity. Scenic Springs is on a secluded, historic estate with a relaxed natural setting. Just add your décor concepts and our team will help you make create a fairy tale wonderland.

A wedding at Scenic Springs is easy and fun - with many hands ready and able to help! For those who love the outdoors, this beautiful parkland lets you step into bountiful gardens decorated with flowers and shade trees. There are outdoor and indoor areas to create your ideal wedding from the enchanting gazebo to the grand hall with windows that frame the grounds for beautiful views.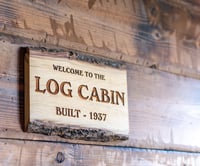 Wedding venues in the woods can showcase rare and lovely trees yet still be well-manicured, with wide-open romantic grounds like at Presidio, San Francisco's famous city-side park. Enjoy exclusive use of this historic and charming log cabin - with room to host 120 of your nearest and dearest - and create an indoor/outdoor experience. At the Presidio park, enjoy the 1,491 acres of woodsy parkland with a breathtaking view of the Golden Gate Bridge, the San Francisco skyline, and Alcatraz Island.

Imagine yourself celebrating at the Log Cabin, now enhance your experience with lodging at the Inn at the Presidio and an overnight stay at the Park. If a private venue wrapped in natural enchantment is what you're looking for, consider this one-of-a-kind historic Monterey spruce cabin the one for your big day.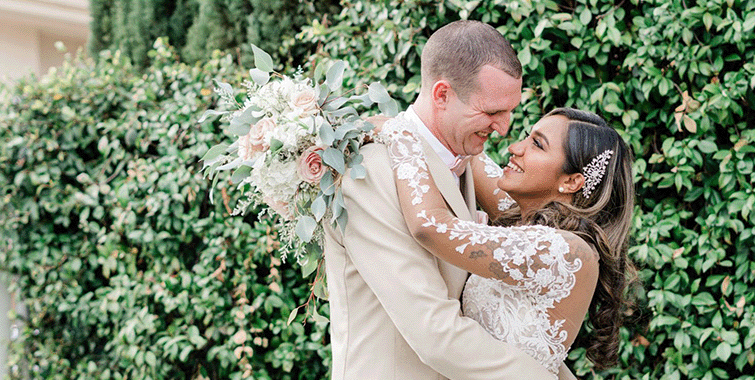 In Central California is a forest wedding venue in one of the friendliest cities on earth and only a short drive from Sequoia National Forest and the famous Giant Sequoias, including General Sherman. From weddings to vow renewals, this is the romantic spot for your major life celebration.

With glorious towering trees and a well-landscaped garden under bistro lights, this venue delivers a romantic glow. When stylish meets earthy elements, you get the perfect outdoor location for a ceremony. Like all the venues listed here, Fresno Fields is a welcoming LGBTQ+ wedding venue.

Amid their beautiful lawn and elegant yet earthy touches, the Fresno Fields team incorporates a wealth of options that will satisfy all your unique wedding desires. If you're looking to combine convenience and rustic elegance for your wedding venue, book with Fresno Fields.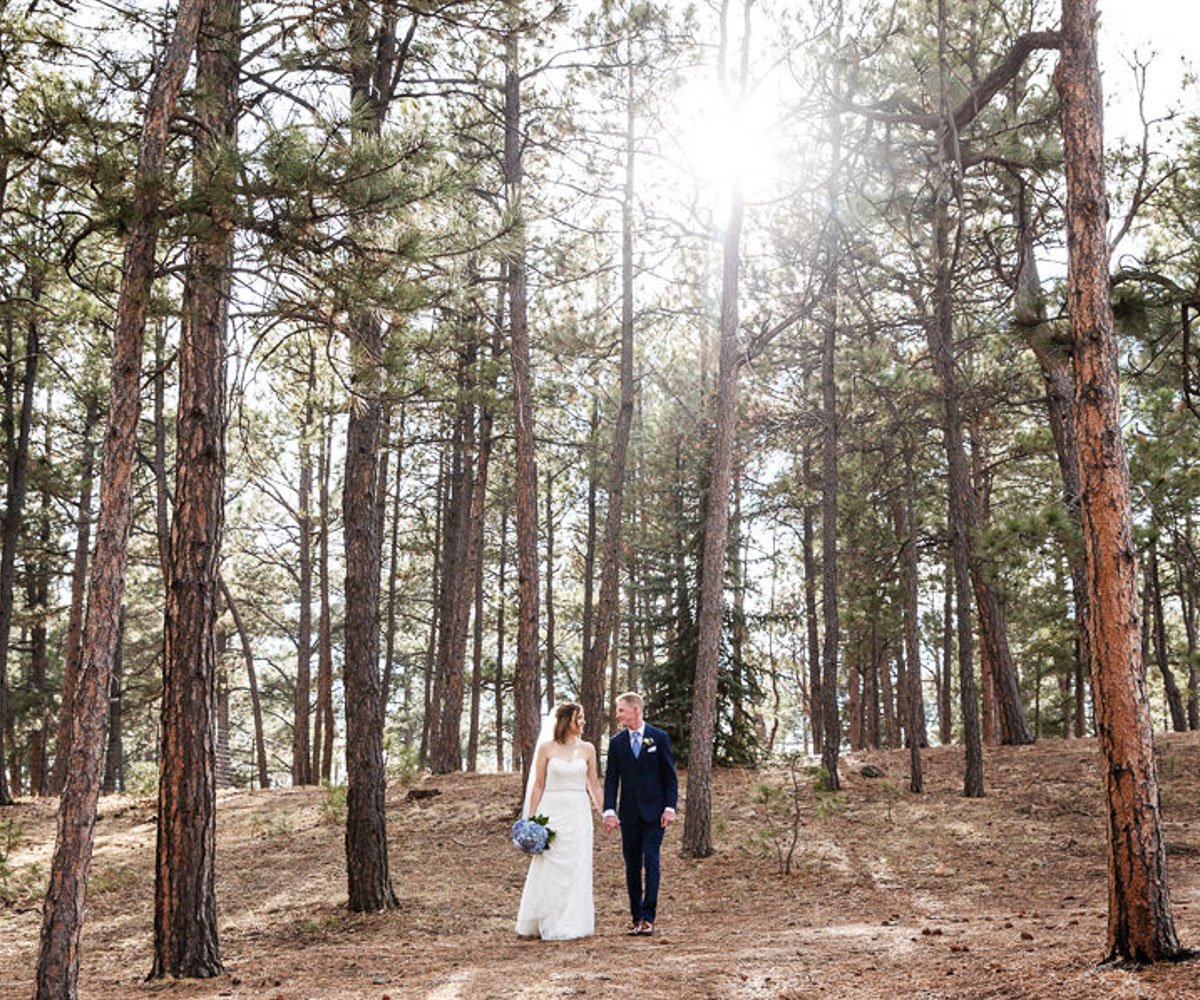 Imagine your wedding under the towering ponderosa pine trees of Colorado's Black Forest. Exchange your vows in a setting that reflects the lasting bond you will experience. The legacy of Black Forest has so much rich history as nature's provider and refuge, making this tranquil backdrop the best setting for your breathtaking celebration.

From the ceremony to post-nuptial celebrations with your guests, you'll love the stunning forest wedding environment, with touches of nature combined with urban chic styling, that creates a rustic elegance for your special day. Choose Black Forest to tell the story of your love in an enchanted woodland oasis.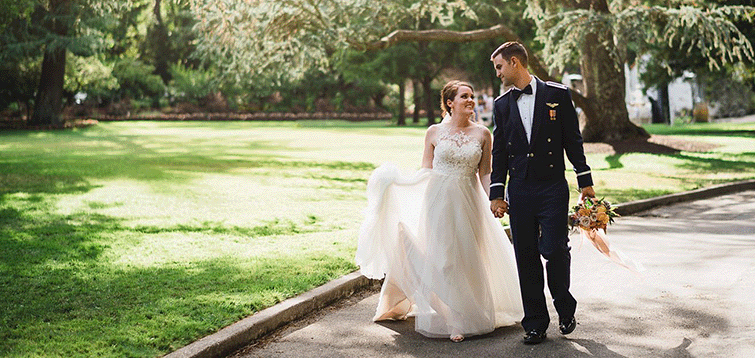 A wonderful scenic wedding venue In the woods at the heart of Moraga, this hacienda is surrounded by gardens, parks, woodland, and beautiful natural open spaces.
Nestled among the rolling hills of Contra Costa County, the nine-acre Hacienda de las Flores captures the beauty of early California. The magnificent adobe hacienda, the stone pavilion crescent, gorgeous lawn, and babbling stone fountain are all surrounded by mature trees and creative follies designed to make you look twice. Surrounded by yarrow, manzanita, huckleberry, jim brush, and yerba buena foliage and enhanced with flowering aster, checkerbloom, blue elder, black sage, coyote mint, lupines, iris, and honeysuckle - this garden retreat encourages butterflies and songbirds.
The lawn and patio are shaded by the towering oak and sycamore trees, and guests are encouraged to take enchanted strolls through the grounds which are lush with botanical garden-quality flora.
Wedding ceremonies take place on the lawn or pavilion, an open-air theater with a carved stone stage and beautiful acoustics. Everything at the Hacienda de las Flores has been carefully considered to embrace the natural beauty and create a slice of paradise for your wedding. If you're looking for a simply sensational setting, this is it.

Boulder Ridge, a multiple award winner on WeddingWire and The Knot, is the place you want to host your wedding. In the picturesque Almaden Valley, on San Jose's southwestern edge you'll love the woodland, rolling hills, and beautiful open spaces – an ideal tranquil escape. Enjoy acres of nature with an array of well-considered on-site amenities to provide all you need for the best outdoor wedding.

The expansive outdoor patio, which has a built-in bar, lounge areas, and fire pits combine to create a great setting that will wow your attendees. Host your reception in the ballroom, which features a fireplace and floor-to-ceiling windows with panoramic views of the surrounding mountains and city lights. The scenery at Boulder Ridge has a natural beauty that will frame your nuptials. Say "I do" and enjoy your woodsy wedding reception at an incredible property showcasing a unique view of the San Jose area.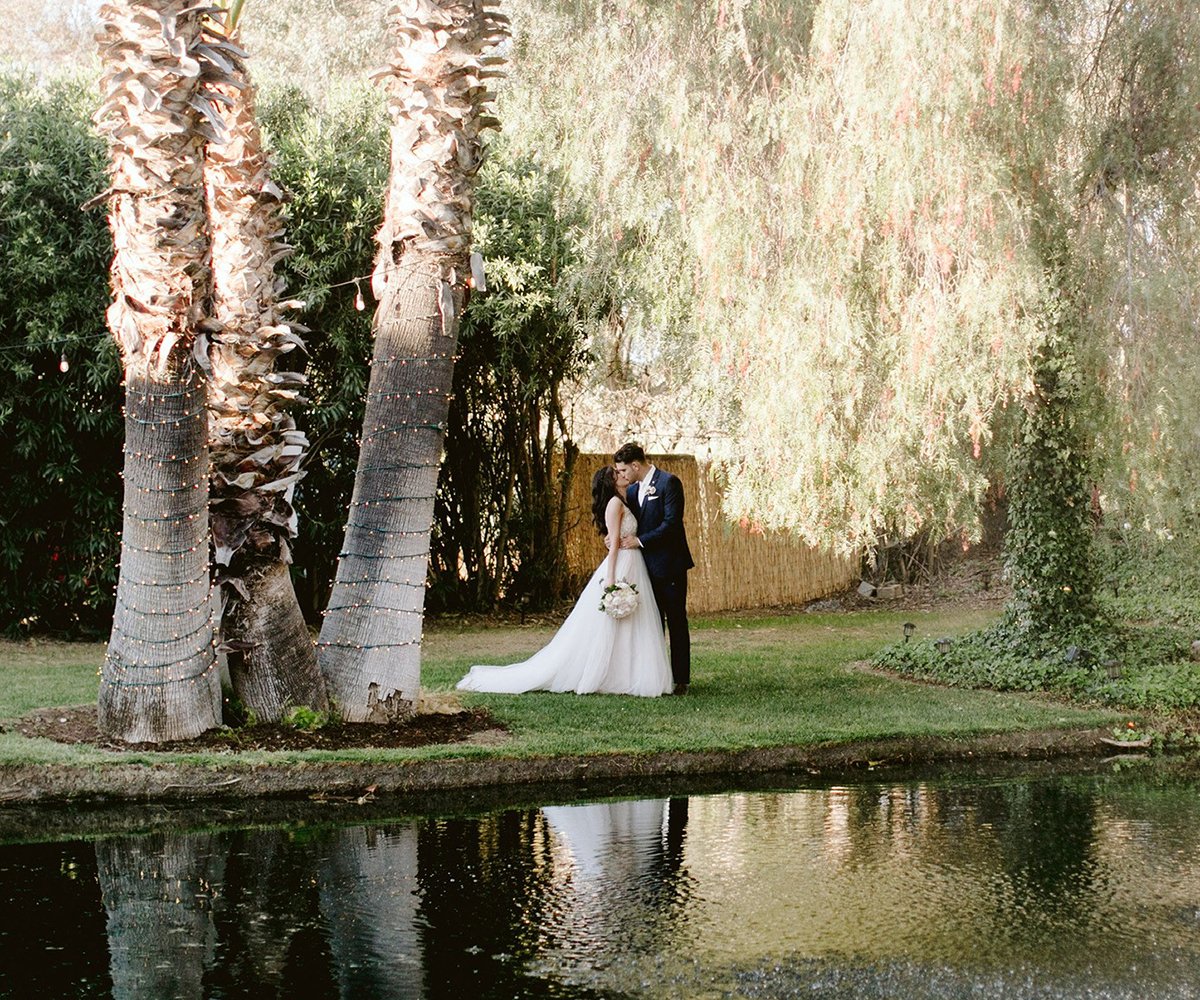 Get ready to be wowed by this fairytale escape with gorgeous and unique nature on tap. This event space is entirely outdoors so a wedding party of up to 300 can celebrate with plenty of space to congregate and dance. There are designated areas to hold your ceremony and reception with a cozy feel like a secret hideaway laced with luxury.

The surrounding nature will envelop you and your guests as you enjoy the calm lake and rustic charm. The timeless, stunning lily pond, luxurious pavilion, and open-air facilities will delight your guests and the balmy SoCal weather will live up to your expectations. The ceremony wedding background is framed by a classic bandstand upon the reflecting pool to up the romance and provide seclusion.

If you can dream it, you can plan it, and The Orchard team will make sure you enjoy it!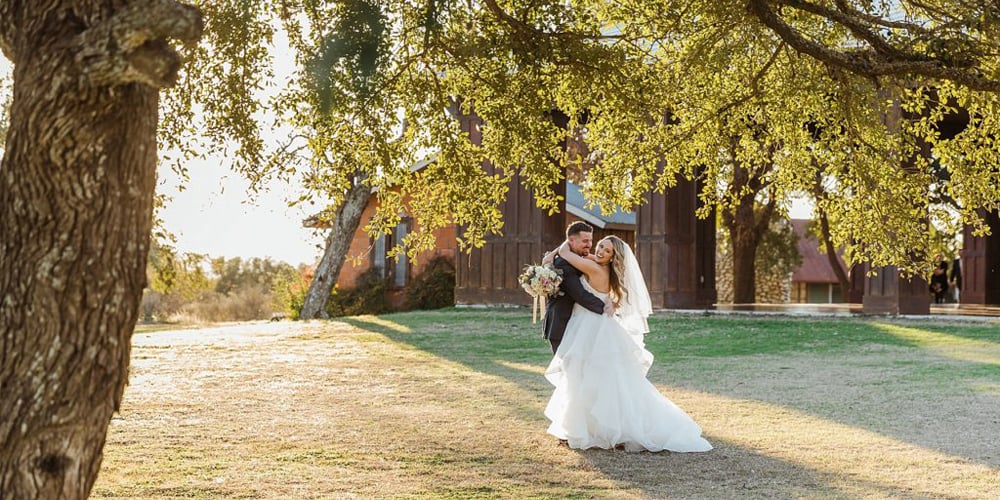 A 370-acre ranch-style property combines vintage and modern elements to make your wedding in the woods dream come true. This serene, secluded fairytale-like setting allows you to behold your most passionate wedding concepts. The appropriately Texas-sized Grand Hall showcases opulent fixtures like the double oak staircases, that make you and your partner the stars of this show as you enter your reception.

From the Garden Lookout for your ceremony to an intimate perspective for your forest wedding reception on a tranquil patio, you can create a one-of-a-kind wedding in this very setting. The spaces offered are only limited to what you can imagine. Hofmann Ranch has the earthy essence your wedding needs.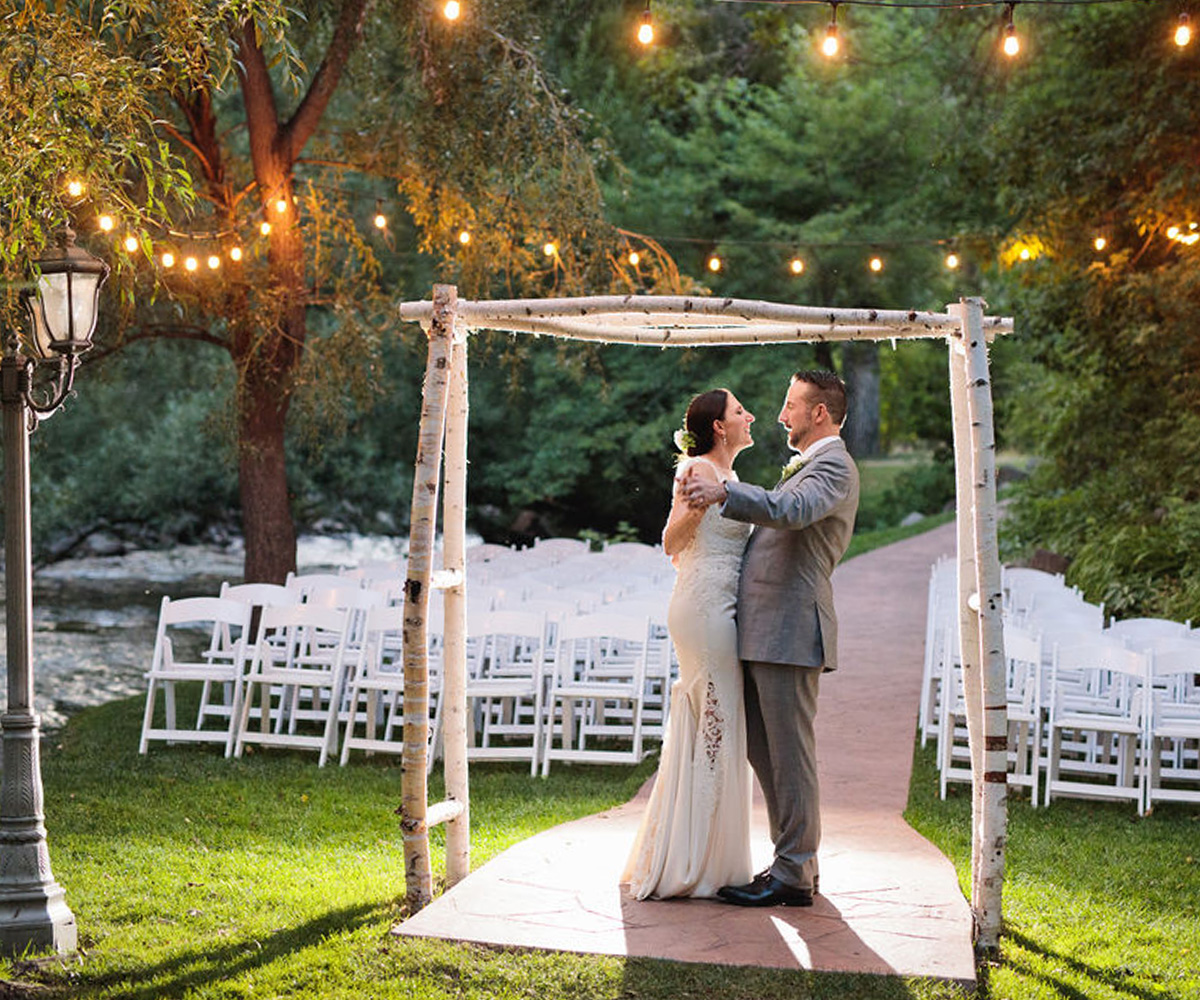 All this natural glamour is nestled just 10 minutes out from Downtown Boulder. With a choice of ceremony areas, you can develop your utterly unique wedding style. At 'Creekside' you'll be alongside the babbling mountain stream, and enjoy timeless elements like a natural arch and tall shade trees, plus bistro lighting with rustic accents to set the mood for the moment.
Above the stream, is the alternate outdoor ceremony area. This more formal location features a verdant lawn, earthy stone arch, and a leafy green backdrop.
Then, transition into cocktail hour by taking in the scenery before heading to the reception space within the grand open-air pavilion or gorgeous stone flagstaff room. Both offer elegant touches and natural elements. You can host a large forest wedding reception or keep it intimate with a smaller group – they can easily accommodate 250 guests.

This nature lover's paradise is situated near the mountains and a babbling creek to elevate the greenery and sounds of nature. Boulder Creek is renowned for out-of-state destination weddings as well as being a local favorite. After all, they wouldn't be an award-winning venue or in The Knot's Best of Weddings Hall of Fame if they weren't such a beautiful and easy-going location to partner with. Make Boulder Creek your certified forest wedding destination.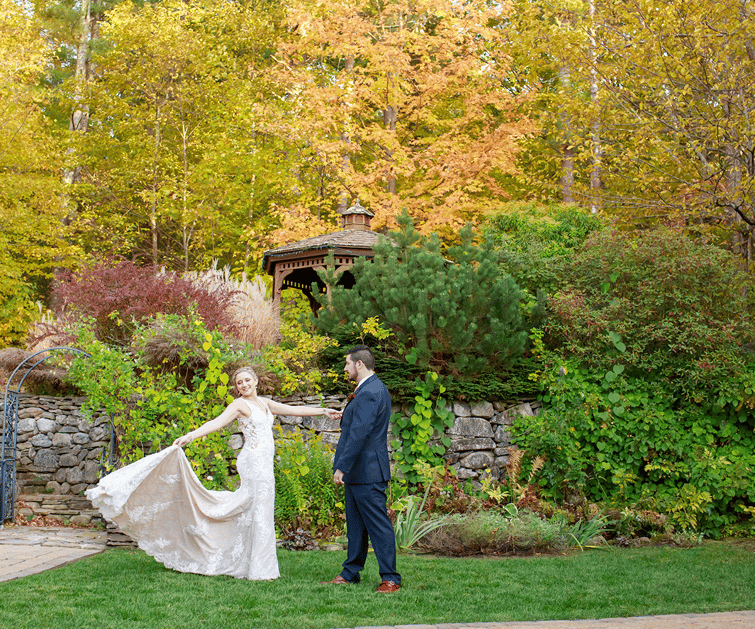 The list of trees and plants at this garden retreat is seemingly endless. A few of our favorite natives include maple, pine, fir, oak, spruce, birch, and beech.
Granite Rose is a charming New England getaway that whisks you away to a Normandy garden in Northern France - an area renowned for its natural splendor. It offers two intimate terrace ceremony sites that entice you with charm and embody romance. Couples love the twinkle-lit redwood gazebo, lush greenery, and the stately chandelier originally from the Ritz Carlton, Paris. Guests are immediately impressed by the expansive windows that flood the ballroom with sunlight and the wrap-around deck.
The estate's fairy-tale façade wraps you within the beautiful maintained yet natural garden to make you and your guests feel like you're in a world of your own.
***

Choosing the Perfect Forest Wedding Venue


Your wedding venue sets the tone for the entire event and secures your wedding date, so it's critical to finalize it before moving on to other wedding needs in your wedding budget. The earlier you can start touring venues, the sooner you'll find one that meets your requirements.
Check out our outdoor wedding guide as you aim to find the forest wedding venue that makes your heart sing. Whether it's a show-stopping weeping willow, quaking aspen, a sun-dappled forest glade, or a majestic grove of California redwoods, trees impart grandeur and serenity to a wedding. All of the venues we've highlighted above showcase Mother Nature's arborial handiwork to make it easy for you to find the outdoor wedding setting you've always admired.